CHARACTER INSPIRATIONS – SERENA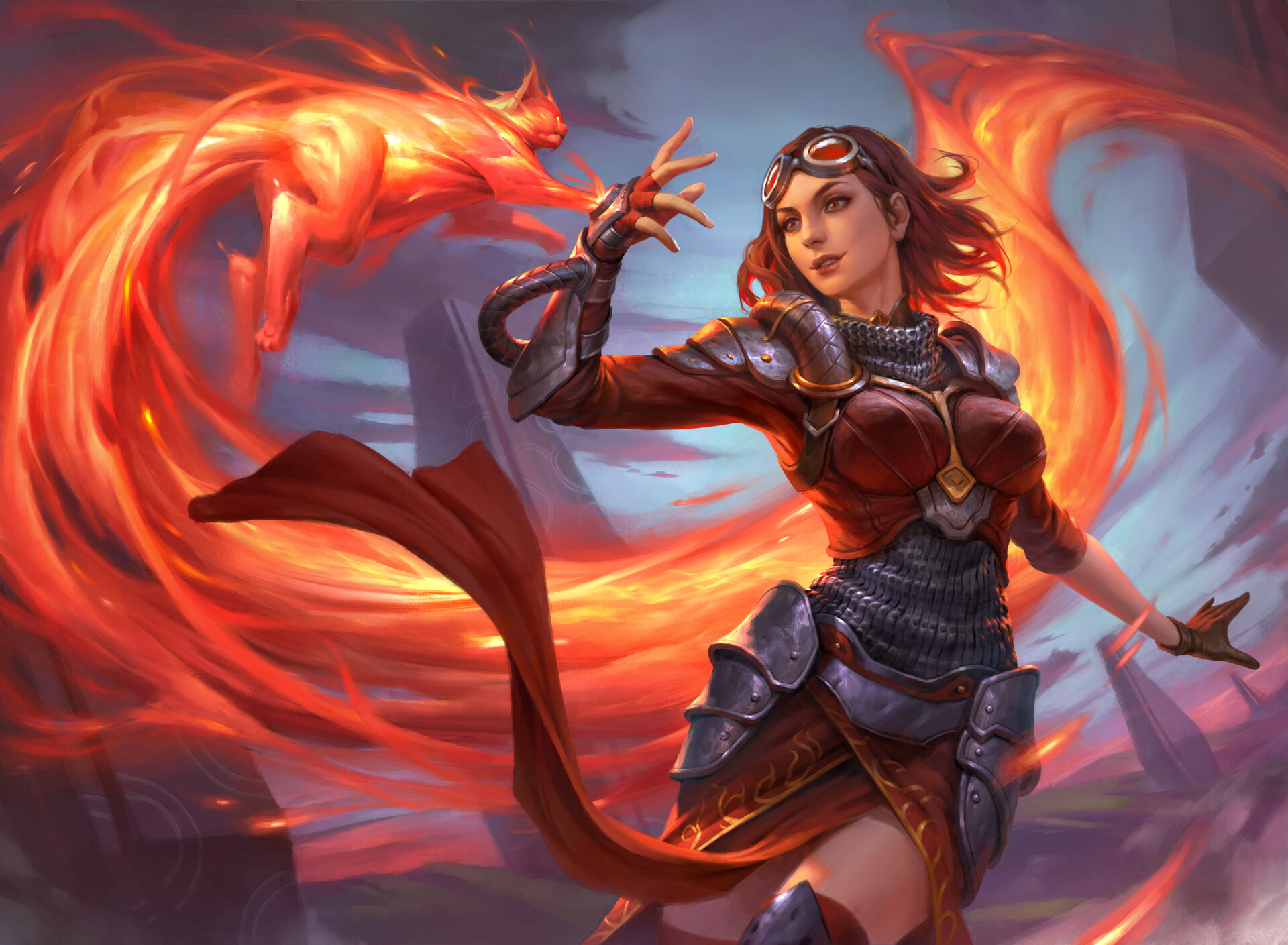 (Art by Wesley Burt)
To kick off my author site, I'm bringing back some posts looking at characters from pop culture that helped me form a baseline for what I wanted from each of my characters. I never finished the series, so I should get on that in the coming days!
Get ready for lots of '90s TV references!
Serena has three chief influences:
Buffy Summers – Buffy the Vampire Slayer
Jack O'Niell – Stargate SG-1
Chandra Nalaar – Magic: The Gathering
Neither Buffy or Jack are very smart in the science / academic sense, but have strong street smarts and knowledge of what they're capable of. Both have a habit of making jokes at what could be considered inappropriate times. Both have a tendency to disobey orders and instead do what they think is right, for better or worse. They are very much DOers, not THINKers. As Serena comes to understand the multiverse and her power more, these character traits will become more apparent.
Chandra's character design and cards help give me a visual reference for the sort of things I want Serena to be capable of, though I'm not borrowing the "my hair is fire" part.
CHARACTER INSPIRATIONS – IVY
(Art by LPM Sinclair)
As the least traditional character of the group, Ivy needs the most explanation. Since Serena is human, and the story is set in a crazy multiverse, I didn't want her companions to be human. I already had Annea planned, and she's an Elf, so I wanted something quite different for Serena's other initial companion.
I looked through mythology, and ultimately settled on dryads – as something that might be vaguely familiar to fantasy / mythology fans, hadn't been done to death, and that I felt I could play around with. I went more for "plant person" than the more classic version, which would have made Ivy very tree-like.
I wanted to lean into the plant-ness of Ivy, so thought through how such a creature might work, and decided she would be able to photosynthesize through her skin, as well as breathe through skin. She leaves her back exposed when she has put on bark armor, because she literally needs the "breathing room."
Given those physical considerations, it seemed logical to me a dryad would want their skin exposed, which is why Ivy is almost naked at all times. I don't think such a nature-inclined being would be big on clothing anyway – since that's an artificial thing we put on ourselves. They cover up by the minimum amount needed not to cause issues when interacting with other cultures. A theme that will come up repeatedly over the course of the series is non-human races aren't going to live according to human societal norms. I enjoy flexing that Sociology degree to think of other ways societies could function.
Side note – It is not my intention to have any of my female characters come across as sexualized. (Sexual is OK, sexualized / objectified is not) Ivy's lack of clothing is stated as a matter of fact. Same with Serena's nudity after engulfing her body in fire. While she may be immune to her own magic, the idea that regular clothing would be too is Disney logic that I don't subscribe to. If anything appears "male gaze" and not tied to a logical in-universe explanation, please let me know about it.
Ataraxia – is a Greek term first used in Ancient Greek philosophy by Pyrrho and subsequently Epicurus and the Stoics for a lucid state of robust equanimity characterized by ongoing freedom from distress and worry. When I came across the word in Google research, I knew it was perfect for Ivy's homeworld. The word serves as a foil as well to Ivy's emotional state when we meet her.
AESTHETIC INSPIRATION – Poison Ivy – I'm taking lots of notes from the thinks this Batman villain is capable of, as this is largely the template of the kinds of things I want Ivy to be able to do.
PERSONALITY INSPIRATION – Seven of Nine (Star Trek Voyager)
Seven is not one for small talk, and is pretty oblivious to normal social conventions, having been raised with the Borg. Having only lived with Dryads before the Vore invasion, Ivy will also struggle with other cultures for a while. Like Seven, Ivy can be prone to lash out verbally against decisions she does not agree with.
INSPIRATION #2 – Teal'c (Stargate SG-1)
Stoic (usually). Values individual freedom and liberty. Often one for few words, in contrast the Seven's penchant for more detailed explanations.